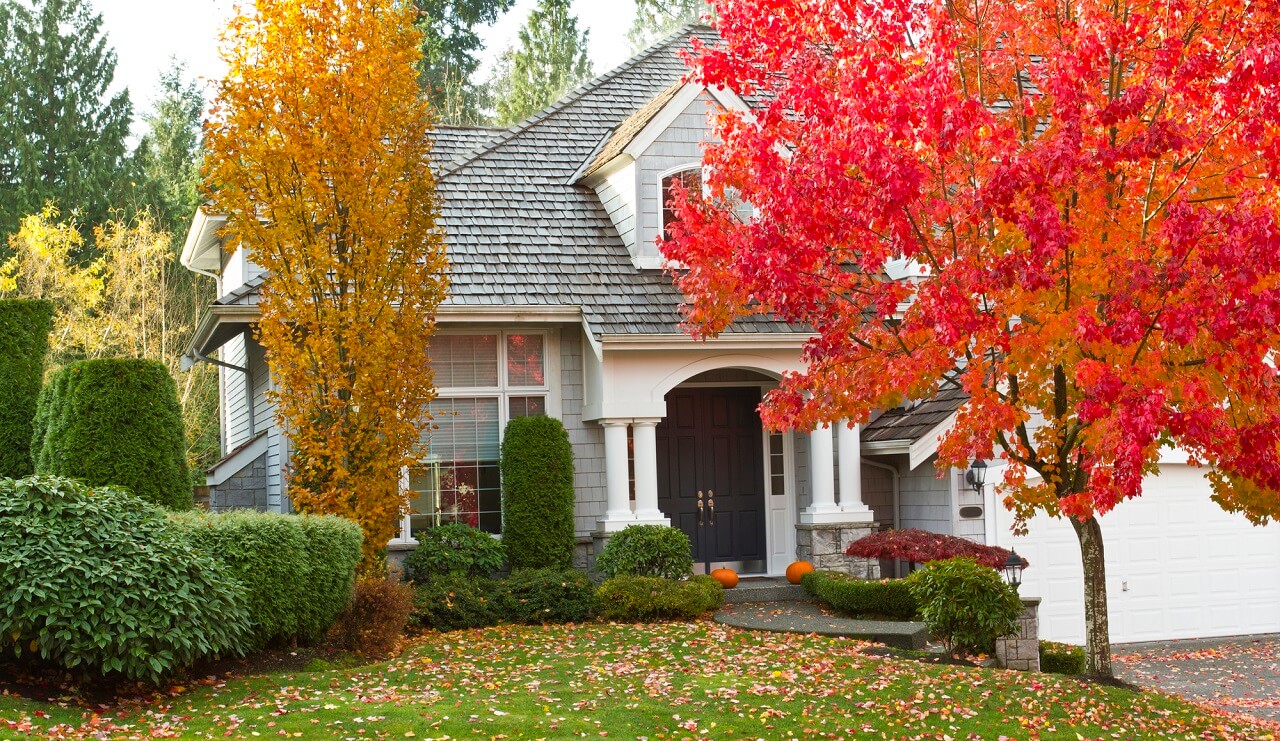 With the cooler temperatures and changing leaves, fall is a great time to spruce up the exterior of your house. If you're planning to list the property for sale or just want to make a few improvements, here are six easy ways to boost fall curb appeal.
Rake Fallen Leaves
The colorful autumn leaves look beautiful but can be detrimental to your lawn. Raking the leaves tidies the yard and shows potential buyers the property is cared for. Removing fallen leaves also clears debris that may damage the grass. By raking regularly, you improve the look of your home and prepare for the winter months ahead.
Plant Fall Annuals to Boost Curb Appeal
Flowering annuals provide color to the garden or landscape in the fall. These plants typically have bright blooms that improve curb appeal and make the property feel welcoming. Popular autumn-flowering annuals include asters, chrysanthemums, and zinnias. These plants might be used to create borders, fill gaps in a garden, or be planted in containers for added color on the porch.
Add a Wreath
A wreath or other seasonal décor is a great way to boost fall curb appeal. Seasonal décor gives your home a warm and inviting appearance. Wreaths are available in various colors and styles, so you can find one that fits your home's style.
Hang String Lights
Lanterns or string lights add a touch of elegance to your home in the fall. Lighting highlights the walkway, porch, or patio. They also create a cozy and inviting atmosphere for entertaining guests. Solar-powered stake lights, hanging lanterns, and string lights are available at hardware stores and garden centers. Choose lights that fit your home's style.
Refresh the Mulch to Boost Curb Appeal in Fall
Mulch is added to flower beds and gardens to improve the appearance of these areas and protect plants from extreme temperatures. Mulch comes in a variety of colors, so you can choose one that complements your home's exterior. Refresh your mulch in the fall to boost curb appeal and prepare the garden beds for colder weather.
Paint the Front Door
A fresh coat of paint can do wonders for the appearance of your home. If you're looking for an easy way to boost curb appeal, paint the front door or shutters. A new coat of paint gives the entryway a fresh look. When choosing a paint, look for a color that complements your home's exterior.
Following these tips will improve curb appeal and make the home's exterior more attractive to potential buyers and guests. Take pride in your property when it looks well-cared-for and tidy.
DJR Home Inspections provides home inspection services, including pre-listing inspections, in central and southern New Jersey. If you're selling a home, contact us to request an appointment.