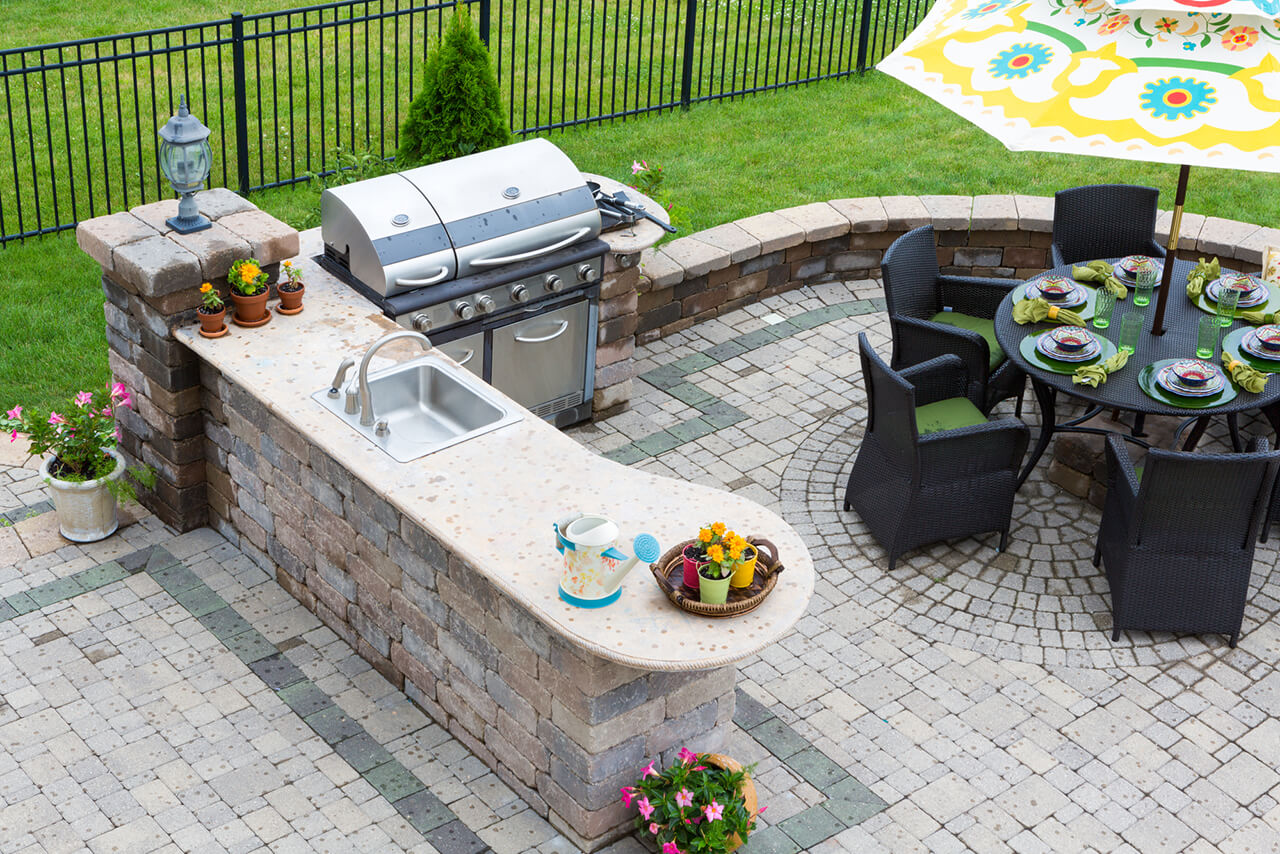 The weather is warming up and you are looking forward to a summer of cooking and entertaining outside. You might be looking for ways to create an outdoor kitchen on your property. This can be as simple as setting up a grill and dining area. You could also create a more permanent outdoor kitchen by installing a countertop and sink on your patio. Here are some ideas for outdoor kitchens to help you create the perfect outdoor space to cook.
Ideas for Cooking Appliances for Outdoor Kitchens
The first decision you'll want to make is what type of outdoor cooking appliance to get. If you already have one, you could invest in another type as well so your outdoor kitchen has more variety. Here are some options to consider:
Charcoal Grill
Many people opt for charcoal grills because they prefer the flavor that meat develops after cooking over charcoal. Charcoal grills are great if you plan to make a whole afternoon or evening out of grilling, but they are not the most convenient if you are looking to prepare a quick dinner. It takes about 15 minutes to get the coals burning, and then you must let the coals cool down and properly dispose of them afterward. For this reason, many folks also purchase a gas grill that can be fired up with the turn of a knob.
Gas Grill
With a gas grill you are still cooking over an open flame, but it is fueled by propane or natural gas instead of charcoal. It is much more fast and convenient to get the grill going but doesn't impart the same flavor as charcoal. If you plan to cook outdoors every night or are limited on spare time in your day, a gas grill is a better choice for you. If you have a natural gas line to your house, you can hook up your gas grill to it. Otherwise, you'll need to buy tanks of propane to fuel it.
Flat-Top
There are also gas flat-top grills which provide some more versatility of what you can cook. Because it has a flat cooking surface instead of grates, food can't fall through into the flames. This makes it easier to cook chopped-up vegetables and meats directly on the surface. Like a gas grill, a flat top is quickly ignited with the push of a button.
Smoker
A meat smoker is another popular outdoor cooking appliance. Smokers are best for people who have a lot of time on their hands, as meat is smoked slowly over the course of several hours. If you are setting up an outdoor kitchen, you might consider purchasing a gas grill for daily use first and then adding a smoker that you'll use on the weekends.
Sink Station Ideas for Outdoor Kitchens
One helpful fixture to have in your outdoor kitchen is a sink. A sink allows you to wash your hands frequently while preparing food, keeping everyone safer. You can also wash plates and grilling utensils in the sink. You'll need to run a supply line from the house to get plumbing to your outdoor area. Call a plumber to do this properly.
Ideas for Outdoor Kitchens: Build a Counter Around the Grill
If you want to be able to prepare a meal from start to finish outdoors, build some counter space around your grill. You can fit your grill and your sink into the countertop you install. Place some cabinets on either side and add a waterproof countertop over them. If you choose to go this route and make your outdoor kitchen stationary, build a covering over it to shelter it from the elements.
DJR Home Inspections offers home inspection services to central and southern New Jersey. Contact us to request an appointment.